Submitted by

Jamal Moustafaev

on Mon, 05/25/2015 - 22:35
Introduction
The company to be discussed in this article is one of the largest oil and gas producers in the world. In this particular case we will examine the portfolio management system designed by one of the organization's regional IT departments.
The situation at the company was such that all the major IT projects were undertaken by the company headquarters, while the local IT departments were responsible mainly for servicing the needs of the offshore platforms. The executives of the regional department felt under constant pressure as many of the projects proposed by them, were denied by the headquarters an, yet, they remained responsible for the safety, reliability and security of all the offshore operations.
As a result they felt that creation of a portfolio scoring model would help them with (a) prioritization of their project proposals and (b) demonstration of the importance of their initiatives to the executive managers at the headquarters.
Strategy
The overall company strategy has been developed at the organizational headquarters and consisted of approximately ten strategic initiatives. However the strategies directly related to the regional offices were:
Safety and reliability of all the operations
Fiscal responsibility
Simpler and more standardized procedures
The Scoring Model
The scoring model created as a result of a one-day facilitated project portfolio management session is presented in Table 1.
Table 1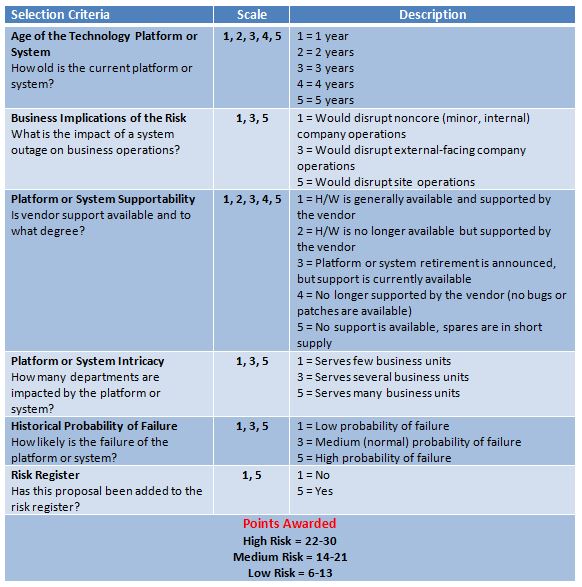 As can been seen it was a very unusual model when compared to other scoring matrices described in the book. One may call it a purely risk-based approach to project prioritization.
The model included the following variables: