Submitted by

Jamal Moustafaev

on Thu, 10/26/2017 - 10:57

PowerPoint – create your status reports in the PowerPoint format. For one they are very easy to project on the wall when conducting stakeholder meeting both at the project and the PMO level. Second, they look attractive; after all PP has been designed as presentation tool!
Length – keep your reports limited to one slide. This approach will help you with selecting the most important information bits about a project. Also, keep in mind the limited attention span of the senior managers. The last thing they want to do is to listen to essays being read out to them at the status meetings (And, yes, I have seen that happen!)
Name and Date – Include the name of the project manager and the date of the report (see Figure 1)
Figure 1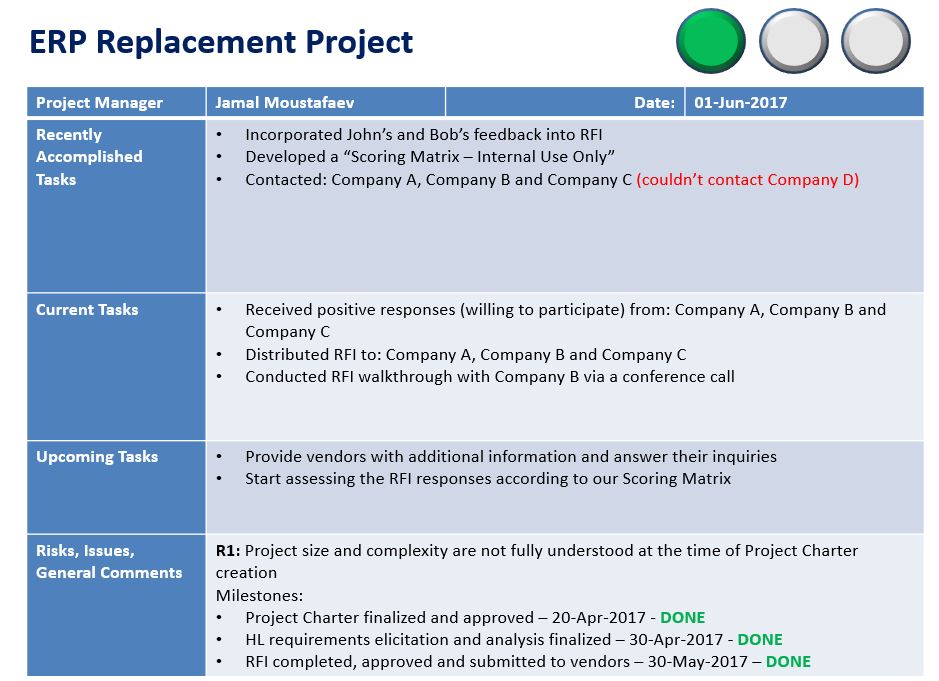 Color Code – Green for "The project is reasonably on time and on budget. No major issues or risks". Amber for "There are some unwanted deviations in terms of budget and schedule and/or there are some significant issues and risks". Red for "This project will definitely be late and over budget and/or there are some serious issues".
Recently Accomplished Tasks – list all of the important tasks that have been recently accomplished. Hint: keep them in the subsequent status reports in case management skips some of your status reports
Current Tasks – describe the stuff your team is working on now. Feel free to insert progress reporting here as well (percent complete, EV, etc.)
Upcoming Tasks – what are the things you plan on working in the next couple of weeks? Use this space to give "heads up" to senior stakeholders
Risks, Issues, General Comments – use this space to talk about potential risks and issues as well as other general comments that can't be included in the above segments (e.g.
Save As – Save your status reports in the following manner: Project_Name_Project_Status_Report_DD-MMM-YYYY. This allows you to easily find it when you need to.
Upload to a Shared Drive – Save each status report on to  a shared drive or a SharePoint page for everyone to see.
About the Author
Jamal Moustafaev, MBA, PMP – president and founder of Thinktank Consulting is an internationally acclaimed expert and speaker in the areas of project/portfolio management, scope definition, process improvement and corporate training. Jamal Moustafaev has done work for private-sector companies and government organizations in Canada, US, Asia, Europe and Middle East.  Read Jamal's Blog @ www.thinktankconsulting.ca
Jamal is an author of three very popular books: 
Delivering Exceptional Project Results: A Practical Guide to Project Selection, Scoping, Estimation and Management 
Project Scope Management: A Practical Guide to Requirements for Engineering, Product, Construction, IT and Enterprise Projects