Submitted by

Jamal Moustafaev

on Tue, 09/12/2017 - 10:51

Some interesting statistics form the recent "PMI Job Growth and Talent Gap" report:
By 2027, employers will need 87.7 million individuals working in project management oriented roles.
The talent gap could result in a potential loss of some US$207.9 billion in GDP through 2027 for the 11 countries analyzed.
Anderson Economic Group (AEG) and PMI analyzed project-oriented employment opportunity in 11 countries on five continents that represent developed and/or growing economic powers. Project-related job growth is expected to be 33 percent collectively (see Figure 1).
Figure 1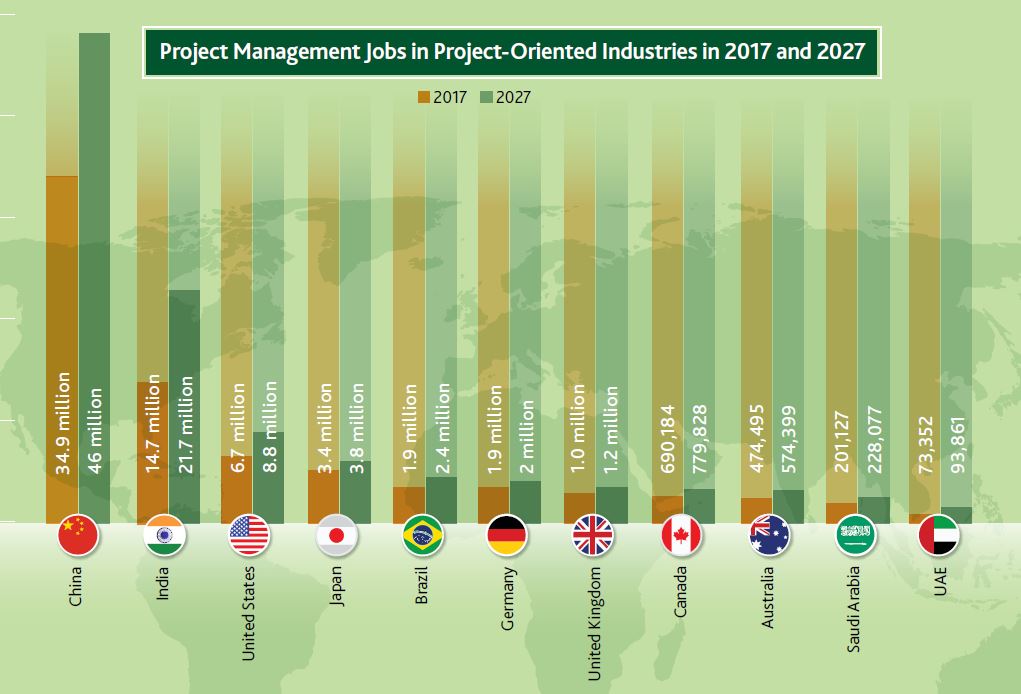 GDP contributions from project-oriented industries forecast for 2027: US$20.2 trillion.
GDP at risk due to the project management talent shortage: US$208 billion.
PMI's original projections in 2008: 52.4 million PM jobs worldwide by 2020.
PMI's actual estimate of worldwide PM jobs in 2017: 65.9 million jobs.
On an annualized basis, employers will need to fill nearly 2.2 million new project-oriented roles each year through 2027.
In the U.S. in 2017, wages of project management-oriented workers in projectized industries were far higher on average than wages of non-project-oriented professionals—a premium of 82 percent.
So, if you ever wondered whether to consider project management as your next profession, the time to make the decision is now! Oh, and check out my new online learning platform that can help you to become a project manager, business analyst or a portfolio management expert.
About the Author
Jamal Moustafaev, MBA, PMP – president and founder of Thinktank Consulting is an internationally acclaimed expert and speaker in the areas of project/portfolio management, scope definition, process improvement and corporate training. Jamal Moustafaev has done work for private-sector companies and government organizations in Canada, US, Asia, Europe and Middle East.  Read Jamal's Blog @ www.thinktankconsulting.ca
Jamal is an author of three very popular books: 
Delivering Exceptional Project Results: A Practical Guide to Project Selection, Scoping, Estimation and Management 
Project Scope Management: A Practical Guide to Requirements for Engineering, Product, Construction, IT and Enterprise Projects