Submitted by

Jamal Moustafaev

on Tue, 02/02/2016 - 14:40
You have assembled either your entire project team or at least all of the technical team leads from different areas. The job of these people is to assess the combined impact of the new change request on key dimensions of your current project: scope, time, budget, duration and quality. What are questions that should be asked in order to accomplish this task (see Figure 1)?
Figure 1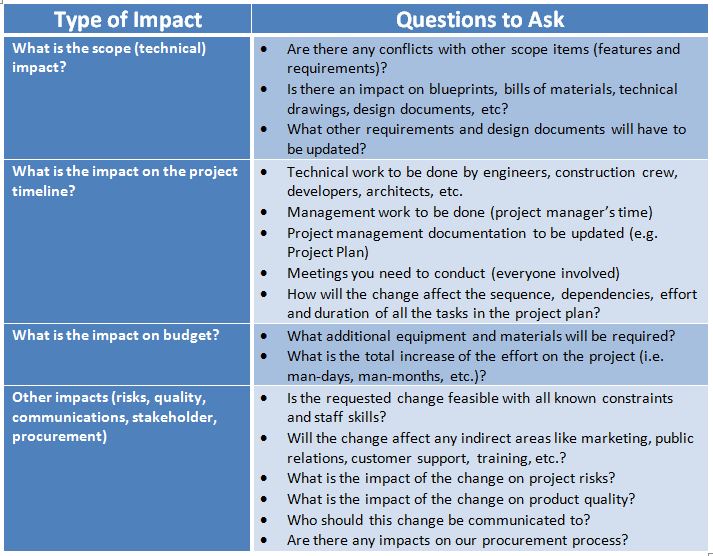 Question: What important cost and effort ingredient was omitted from the table above?
Answer: The "cost of assessing" the Change Request, irrelevant to whether it was or was not approved!
Conclusion: Educate your project stakeholders that they are delaying your project and potentially increasing the costs EVERY time they submit a change request irrelevant of whether it was approved or rejected! Assessing the requested change is an expensive and time-consuming task.
About the Author
Jamal Moustafaev, MBA, PMP – president and founder of Thinktank Consulting is an internationally acclaimed expert and speaker in the areas of project/portfolio management, scope definition, process improvement and corporate training. Jamal Moustafaev has done work for private-sector companies and government organizations in Canada, US, Asia, Europe and Middle East.  Read Jamal's Blog @ www.thinktankconsulting.ca
Jamal is an author of two very popular books: Delivering Exceptional Project Results: A Practical Guide to Project Selection, Scoping, Estimation and Management and Project Scope Management: A Practical Guide to Requirements for Engineering, Product, Construction, IT and Enterprise Projects.