Submitted by

Jamal Moustafaev

on Mon, 06/19/2017 - 10:57
A great American scientist and a 1954 Nobel Prize in Chemistry winner Linus Pauling once said, "If you want to have good ideas you must have many ideas. Most of them will be wrong, and what you have to learn is which ones to throw away."
One of the key principles of project portfolio management is to generate as many project proposals as possible in order to improve the portfolio selection. The idea here is that the more proposals one has in front of her, the easier it would be to build a higher quality portfolio of projects. Let us try to illustrate that point with a couple of examples (see Figures 1 and 2).
Figure 1 shows the bubble chart diagram of several project proposals imposed on the risk-reward diagram. let us assume that we need to select six projects out of all the proposals in front of us. In this particular example once we eliminate the always unwanted "white elephants", i.e. the low reward and high-risk projects, we have exhausted our choices. In other words, we must add all of the remaining ventures to our portfolio including two "pearls", two bread and butter" and two "oysters".
Figure 1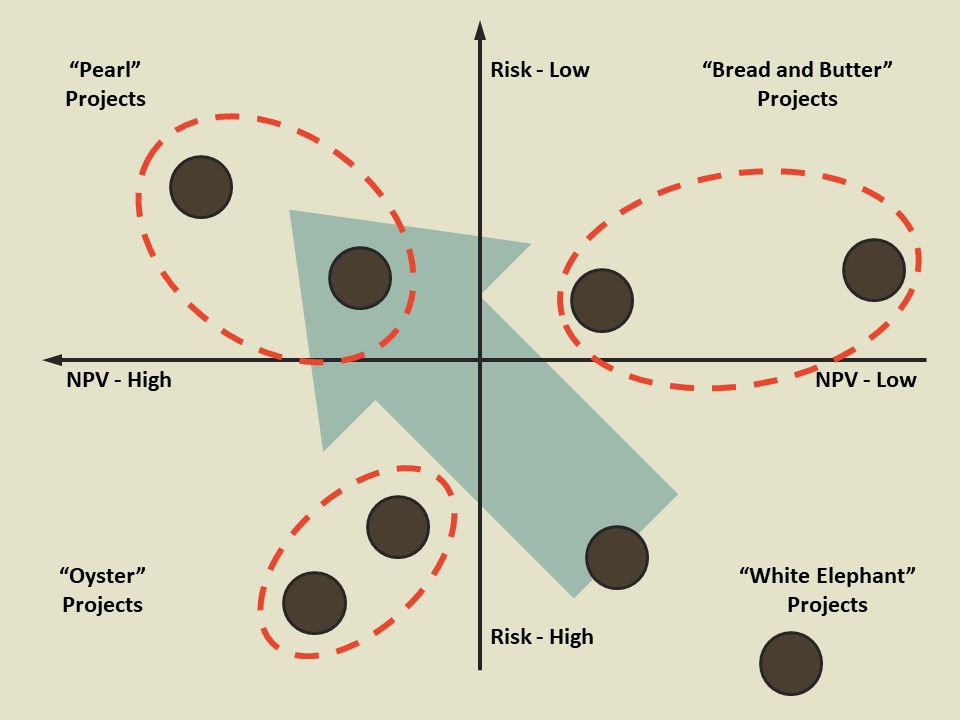 Let us compare this situation above with the portfolio shown in Figure 2. Instead of having only eight candidates we now have twenty: four "pearls", five "bread and butter", five "oysters" and six "white elephants".
Figure 2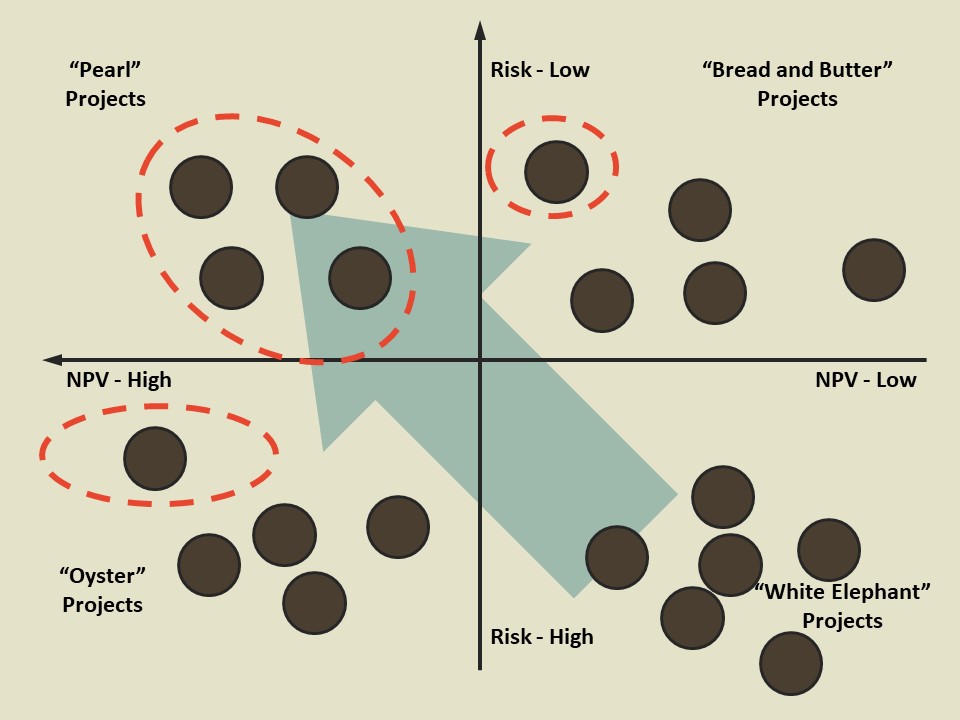 After getting rid of all the low reward, high risk projects and an addition of four low-risk, high reward ones, we are now free to mix and match the "oysters" and the bread and butters" to our liking. For example, we may decide to select two highest return and lowest risk projects from the "bread and butter" and "oyster" quadrants respectively.
Comparison of these two charts clearly demonstrates that having more project ideas to start with we were able to select a more attractive portfolio overall.
Question: Do you try at your organization to generate as many project ideas as possible? How do you achieve that?
About the Author
Jamal Moustafaev, MBA, PMP – president and founder of Thinktank Consulting is an internationally acclaimed expert and speaker in the areas of project/portfolio management, scope definition, process improvement and corporate training. Jamal Moustafaev has done work for private-sector companies and government organizations in Canada, US, Asia, Europe and Middle East.  Read Jamal's Blog @ www.thinktankconsulting.ca
Jamal is an author of three very popular books: 
Delivering Exceptional Project Results: A Practical Guide to Project Selection, Scoping, Estimation and Management 
Project Scope Management: A Practical Guide to Requirements for Engineering, Product, Construction, IT and Enterprise Projects