Submitted by

Jamal Moustafaev

on Sat, 09/20/2014 - 00:06
Over my close to twenty years of project management consulting and training experience I have been involved in this discussion on more times than I care to remember. Some people claimed that as long as the project was completed on-time, on-budget and delivered a full scope promised, it should be considered a success.
Others claim that it is OK to be somewhat late and over budget, but deliver a great quality product. And yet there is another group of professionals that claims that – of course, within reason – budget and timeline are not that important as long as the project realizes the truly great idea behind it.
Let us try to analyze each one of the "project success" ingredients. Let us assume that we have a project at hand that has been completed on-time, on budget and delivered a full scope of excellent quality. Does this automatically imply that this was a successful project?
In order to assess this question, we would need to take a look at a couple of examples. Imagine that a real estate development company in 2014 commissioned a project manager and requested him to build a luxury condominium building near a local lake. The project manager has successfully completed the project on-time, on-budget and delivered the full scope requested. Having said that, shortly after the construction was finished, the executives discovered that due to a number of factors (including economic and demographic ones) they would be able to sell only 10% of the units built.
Can this project be considered a success? Most likely all of the readers will agree that it was not, since the company failed on the portfolio management end of the spectrum (i.e. selecting the projects with the highest possible business value).
Let us now look at the example of the Denver Airport Baggage Handling System that due to failures in the areas of requirements elicitation and proper planning required an additional 50% of the original budget - nearly $200m and has been delayed by almost 2 years. Was the original initiative to replace the outdated system a good idea? Most likely yes. Was it a successful project? Absolutely not, because of the cost and time overruns.
Now we can turn our attention to a couple of projects th
at can be considered quite successful. The first one is a construction of the "world's only seven-star hotel" in Dubai, that started in 1994 with the blessing of the ruling family of Dubai. The construction took five years between 1994 and 1999. Since the building was commissioned by the Jumeirah Group, a wholly owned subsidiary of the government owned Dubai Holding, very limited infor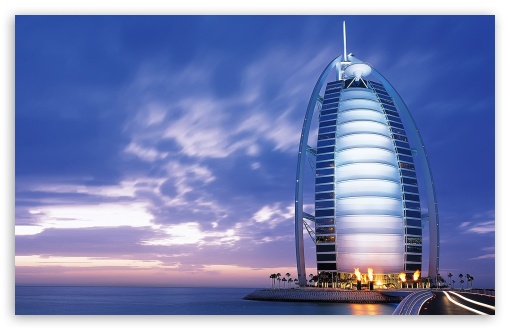 mation is available about the financials of the project. However, one can reliably state that the project was on-time (five years), on-budget (US$650 million) and delivered the full scope promised.
Due to the fact that Dubai Holding does not publish its financial results, it is very difficult to calculate the ROI (return on investment) or NPV (net present value) on this project. However, it was known from the very beginning that this project was conceived at the very top of the 
UAE government as a venture that would assist in transforming the country and the state from the exclusively oil-based economy to the trade and tourism-based market.
The ruling family of Dubai gambled – and by all accounts won – that the conversion into international hub of trade and tourism should start with a "wow-type" project that would demonstrate to the rest of the world that the Gulf country can:
Undertake ambitious projects and see them to completion
Has a rich cultural and historic heritage
Has the supply of and the demand for luxury hotel accommodations
Have the goals of this project been achieved? Absolutely yes. Burj Al Arab has become an iconic building in the minds of millions of people worldwide, it is firmly associated with Dubai in particular and United Arab Emirates in general. Moreover one can argue that a significant portion of the tourist and business influx into the country can be directly attributed to the erection of the building. So, we can say for sure that this project was a success.
Let us now venture into the paradigm of alternative realities. Would the Burj Al Arab project be considered a success if the construction took seven instead of five years? Probably yes. Would this project be considered a success if it cost $700 instead of $650 million? Again, absolutely yes.
As a matter of fact I can think of a number of projects that fall into this category: "Titanic" movie (cost -$200 million vs. revenues - $2 billion), the first iPhone (cost - $150 million, revenues – $2.7 billion), Grand Theft Auto 5 (cost - $265 million, revenues – US $1 billion in its first three days!), just to name a few.  Would really reasonable deviation in their budgets make them less of a success? Absolutely not. Would iPhone be less of a success if it was released three months later than the actual date? Most likely yes.
So, now we can derive a formula for a successful project? Based on our analysis it looks something like this:
Project success is a function of:
Business value is realized
Project is delivered reasonably on-budget
Project is delivered reasonably on time
Project scope is delivered within reasonable limits
NOTE: Unfortunately there is no predefined, one-size-fits-all formula for the term "reasonable"; it should be decided by the executive management of the company in co-operation with the project manager on the case-by-case basis.
About the Author
Jamal Moustafaev, MBA, PMP – president and founder of Thinktank Consulting is an internationally acclaimed expert and speaker in the areas of project/portfolio management, scope definition, process improvement and corporate training. Jamal Moustafaev has done work for private-sector companies and government organizations in Canada, US, Asia, Europe and Middle East.  Read Jamal's Blog @ www.thinktankconsulting.ca
Jamal is an author of two very popular books: Delivering Exceptional Project Results: A Practical Guide to Project Selection, Scoping, Estimation and Management and Project Scope Management: A Practical Guide to Requirements for Engineering, Product, Construction, IT and Enterprise Projects.