Submitted by

Jamal Moustafaev

on Sat, 07/30/2016 - 12:57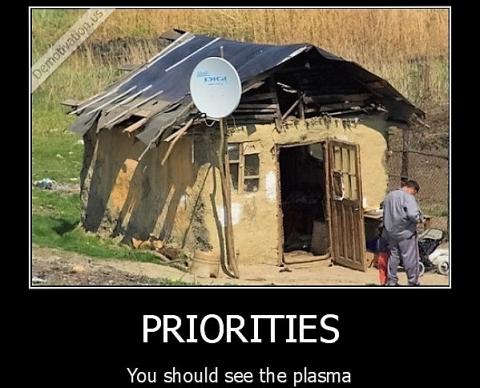 When the Requirements Specifications is complete, the project manager (or the business analyst) must inspect the document with all the stakeholders in order to (along with other very important things) prioritize all of the project features and/or requirements.
Project features have to be prioritized for the following reasons:
Prioritization eliminates unnecessary, frivolous scope items added to the project scope
It decreases the project scope thus potentially saving time, money and resources
It allows you to focus is on the truly important items
However, the prioritization exercise could become a very painful process, especially when the project manager is working with the stakeholders who are not very familiar with the core principles of project management. As a result they frequently tend to counter every prioritization request with phrases like:
Everything in this document is equally important!

Statements like "this is a low-priority feature" are not culturally accepted at our company

We have a "yes, we can" attitude at this firm!
And my favorite:
Well, you ARE a professional project manager. Can't you deliver all of these items on a tiny budget and a ridiculously aggressive timeline?
To address this problem I usually start my prioritization exercises by showing the stakeholders the following table (see Table 1):
Table 1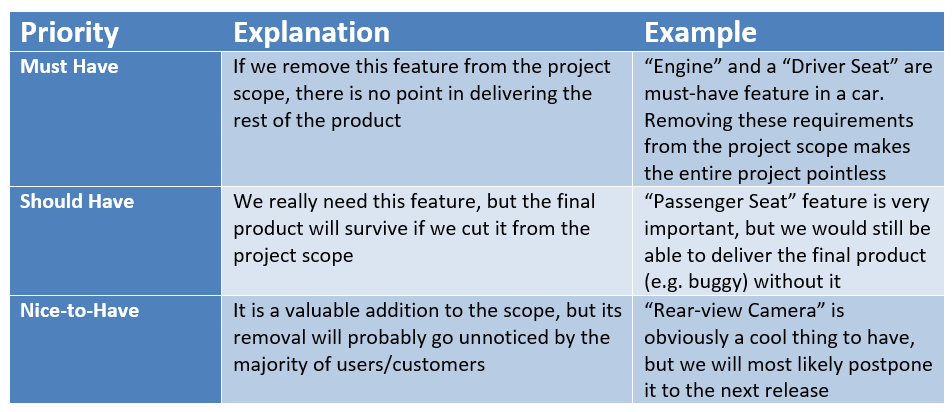 Usually the dialogue goes something like this:
Me: OK, now to the "Rear-view Camera" feature … How important is it?

Stakeholder: Very important! Definitely a "Must-Have" item!

Me: But if we throw it out, does it mean we have to abandon the entire project?

Stakeholder: No, not really … How about be assign it a "Should Have" status then?

Me: Is it of same importance as the "Passenger Seat" feature? In other words, if it came to deciding whether to cut the "Passenger Seat" feature or the "Rear-view Camera" feature, would you think for too long?

Stakeholder (with an audible groan): OK then, let's go with "Nice-to-Have"
So here are my questions to you:
What priority model do you use?
Priority 1/Priority 2/Priority3
Must Have/Should Have/Nice-to-Have
High/Medium/Low
Essential/Conditional/Optional
What is the best way to explain them to the stakeholders?